If you would like to help donate for the 2016 clinic, please click here
  Cancer de Mama has wrapped up for another year, with 478 women being fitted with prothetis and special bras, (50 more ladies than last year).  Preparations begin long before the weekend of the clinic, with the sorting of appoximately 5000 bras into their respective sizes, and set up of the clubhouse into comfortable fitting rooms.    The ladies are served a hot lunch, and food preparation begins before sunrise for Barry and his group of slicers, dicers and choppers.  
Meanwhile, down in  the clubhouse – it is a hive of activity.  The ladies are lined up awaiting their turn to be "fitted",
  and the fitters are busy collecting the items necessary to "fit" each lady.  
  The "sewing" and "pinning" group are hard at it, 
  and the pool area is  alive with activity, overseen by Maruka.  
   The volunteers are registered and sent to their respective areas. 
The road is watered to keep the dust down – who knew it would RAIN!!  
OT and her group register all the ladies,
   some of which proceed to the "craft" table to create beautiful "Thank You" cards for the Clinic team members.    
Heather is busy at the "Free Store" 
  And "Make Overs" are created at the Hat & Wig Shop.  
  Behind the scenes, there are  people doing Traffic Control, 
driving the ATV People Movers,
Van Drivers,
Record Keeping,
Dishwashers, Kitchen Staff,
Cooks
and Clean up crew,
all working in tandum to make the Clinic the success it is.  The volunteers are kept fed and watered by Marion and her group of helpers, 
And at the end of the day – Everyone goes home happy and satisfied!
Special thanks to Susan Sloan as clinic coordinator. We can only imagine how many hours of dedication organizing this requires even with an excellent team.  THANK YOU EVERYONE FOR A JOB WELL DONE!!
Real Life Heroines: Celebrating Life
Real Life Heroines: Celebrating Life
©Tara A. Spears
What could be a really sad situation is instead a joyful tribute to the more than 500 brave women from all over Nayarit that come together for this weekend's annual Cancer de Mama Clinic. Compassion and positive energy flows between the clients and volunteer staff as evidenced by all the smiles and hugs. It takes a strong woman to rise above her personal pain to say 'gracias' and enjoy a day with new friends. Many of the clients express appreciation for the clinic service by giving the staff beautiful letters or handmade treats. ( the center photo)
Proof that the La Penita Cancer de Mama is a success is the huge positive response to the event. Women breast cancer survivor travel for hours in order to receive a free prosthesis and modified bras. Each client also receives tit bits: knit fiber-filled boobs that can get wet and therefore are great in this hot, humid climate. In addition, free transportation is arranged and a delicious meal provided as well as coupons to shop in the free store for used clothing. There are games to help fill the wait time between being fitted and the bras being sewn.
Another option for the ladies is to visit the hat shack for a scarf or hat. This is particularly helpful to those who are bald from chemotherapy. Right next to hat shack is the salon La Penita: the women can get a haircut, facial or wig. Now that's a girly way of de-stressing!
Thanks to 200 Volunteers: The Cancer de Mama Clinic was started by Jackie Jackson. Like so many excellent ideas, the concept of providing after surgery care fulfilled a great need in this Mexican state. Immediately, just by word of mouth among the Mexican medical community, the number of women traveling for help rapidly increased. Fortunately many kind hearted individuals in Jaltemba Bay, primarily seasonal residents, kicked into high gear and went about the time consuming task of finding the stock in Canada and the US and getting it transported here. This first weekend of each February event is a year-long effort of a dedicated executive committee who plans and makes arrangements for all phases of the clinic. An amazing group of department chairs organize the materials and volunteers for operating the clinic. Many local merchants donate food items that become the meal for the clients and volunteers. As the Cancer de Mama Clinic supervisor, Susan Sloan says it best: "To all of the people who give so much, Thank You for your countless hours, your tears, your compassion, your laughter, sore muscles and tired feet! We did a great job and should be proud of ourselves."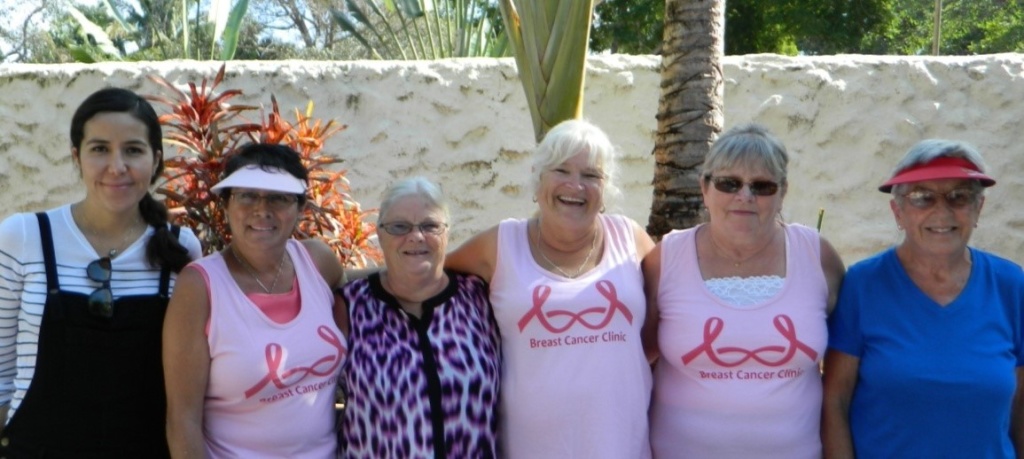 Applause goes to the brave survivors and all my neighbors that donate in any way. It is these true heroines who make a difference. See you next year!